The AEC 2020 update brings new improvements and features to your course center
In this version, we have developed amazing new features to help increase your productivity.
Module to set up and manage automatic discounts
Send SMS from AEC
New international payment gateways in Kiosque
Brand new shopping cart design
New visual editor to build your website linked to AEC
New features with Apolearn
And many other improvements…
Upgrading AEC is easy and simple
Just contact us and let us know the date you would like AEC to be updated. Email us at support@atl-software.net or click on the button below.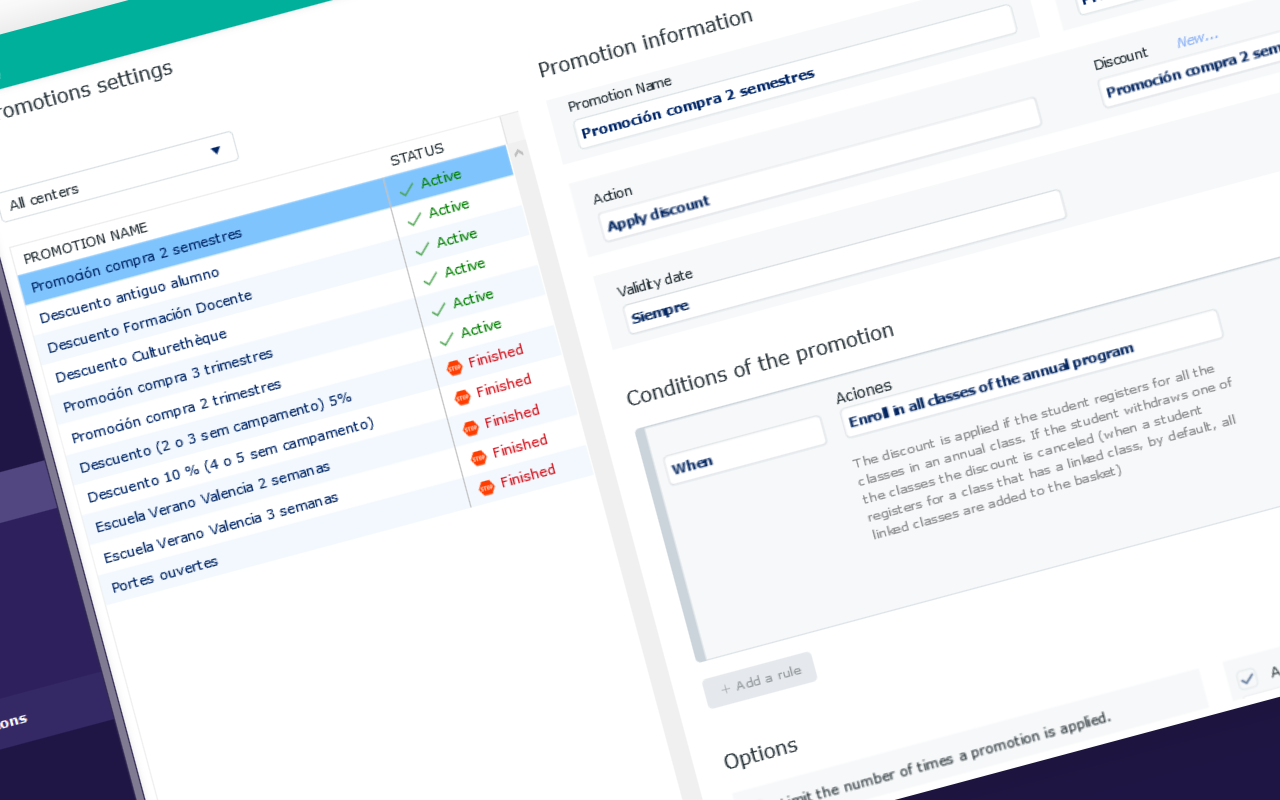 Do you have questions about the AEC 2020 update?
What is AEC 2020? AEC 2020 is the most recent version of AEC in 2020.
How to test AEC 2020? If you are already using AEC, it is not possible to upgrade to AEC 2020 just to try it out because the upgrade is not reversible. However, in the coming days we will invite you to a webinar to present the new features before proceeding with the upgrade. Please note that this update does not change the current behavior of AEC but adds new features.
How much does AEC 2020 cost? AEC 2020 is a free update of AEC.
What is the list of new features compared to AEC 2019? AEC 2020 brings important new features such as: an automatic promotions and discounts module, SMS sending, integration of a visual editor to build and update your website, integration of the Stripe payment platform for your online registrations, addition of a shopping cart connected to AEC to be installed on your website, etc. You can consult the complete list of improvements on this page
Can I use AEC 2020 on a mobile device? AEC 2020 is not intended to be used on mobile devices. Instead, we are planning complementary mobile applications that are well specialized and adapted to mobile ergonomics, starting in 2021.
Do I need to activate Flash to use AEC 2020? You need to activate Flash to use AEC 2020 because there are still several modules in the software that use this technology.
Browsers restrict the activation of Flash but do not prevent it from being activated by performing a few manipulations. For users who do not wish to enable Flash, we suggest installing the AEC desktop application directly on their computer. This avoids using AEC in a web browser and improves performance. This application can be downloaded from AEC by clicking on your name in the top right corner and then on the "Download AEC" button.
Will there be an AEC 2021 version in 2021? The AEC 2021 upgrade is already in development and will of course include much anticipated features such as an emailing module, visitor/prospect tracking on your site and a visual editor to customize your Kiosque pages (feature already available in AEC 2020 if you have opted to host your site with AEC).
For any further information, please do not hesitate to contact us by email: support@atl-software.net