After several months of work, here is the 2021 version of AEC!
Upgrading AEC is easy and simple
Just contact us and let us know the date you would like AEC to be updated. Email us at [email protected] or click on the button below.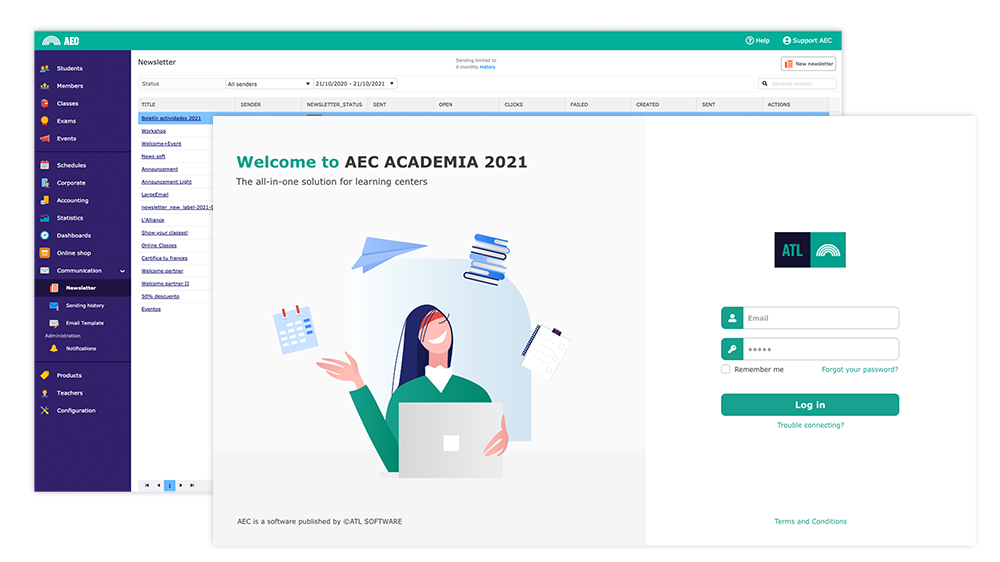 In this page you will find most of the improvements and new functionalities that are available in the 2021 version of AEC.
Marketing / Comunicación
Website / Kiosque
Aplicación móvil para profesores
API y otras mejoras
Marketing / Communication
Detail of the new functions and improvements of the Communication and Marketing module.
Sending newsletters 
The new newsletter sending module includes :
User-friendly editor to compose your newsletter.
Template selection from a library of more than 50 adapted templates.
Multi-criteria selection to target recipients based on their profile, purchases made, course registrations, exams and events.
Tracking of sending, opening and unsubscription statistics.
(Only available for Premium subscriptions)
Adding attachments when sending an e-mail 
You can now attach one or more files with a maximum size of (2 Mb) when sending and email from AEC.
Communication preferences 
When registering and from their personal space, your students can choose the modes of communication by which they agree to receive communications sent from AEC (email, sms or postal mail). AEC will respect this choice when sending grouped emails or SMS.
Follow-up by email or SMS for abandoned shopping carts.
We have added the contact details of customers identified in the basket list of the sales history module so that you can send a follow-up SMS or email for baskets that have been started but not completed.
Shopping Cart Conversion Tracking 
By connecting Kiosque to Google Analytics v4 you can track shopping cart additions based on the sources your visitors come from and thus track the conversion statistics of your online ads, for example, all filtered by product category.
Website / Kiosque
New features for publishing courses, virtual classrooms and plugins for web pages.
Course Publishing Assistant
By choosing to publish your courses in kiosk directly from the course record in AEC, allowing you to speed up your work, it also notifies you if a course is not visible online.
Automatic login to Kiosque from a student's file 
Access your students' Kiosque profile directly from AEC to view the student's space online.
AEC plugin for WordPress
By installing our AEC plugin on your WordPress website, you can easily generate a shortcode to add to your pages to integrate Kiosque modules directly into your web pages. If you do not use WordPress, please contact us to find out how to do it.
Compatibility with the website template created by the Fondation Alliance Française
The AEC website is now compatible with the Fondation Alliance Française template, allowing you to easily and quickly create your website with the Fondation's graphic charter using the possibilities of our visual editor.
Zoom room type configuration
In AEC you can configure your virtual classrooms (Zoom or others) with an access link so that your students can easily access the video call from their personal Kiosk space.
Use of credit note from Kiosque 
When a student has a credit note in AEC, it will allow him/her to use this credit on his/her next course registration from kiosk, i.e. this amount will be automatically deducted the next time he/she registers online.
Profile picture in kiosque
From the personal space in kiosque, students can upload or change their profile picture.
Mobile application for teachers
A new mobile application dedicated to teachers is now available in stores.
 
Availability of the AEC Teacher App
This application allows them to view their timetable, access the details of each lesson and each session to enter attendance and pedagogical follow-up. They can also send emails and SMS to their students directly from the application.
Teachers will receive a notification at AEC to alert them to the availability of the app, which is compatible with iPhone and Android.
Creation of WhatsApp groups
In both the AEC Teacher app and AEC now you can choose to create a WhatsApp group with the students of the course. The teacher is designated as the administrator of the group. The student will also find the link to the WhatsApp group in their personal Kiosk space. (Only available for Pro and Premium subscriptions).
Communication sending preferences 
A new option has been enabled by default so that teachers can send emails and SMS from the application. If you do not want this to be the case, you can disable this option from the Configuration module in AEC.
API
New functionalities and improvements implemented for integration with different educational platforms, accounting system and media library management.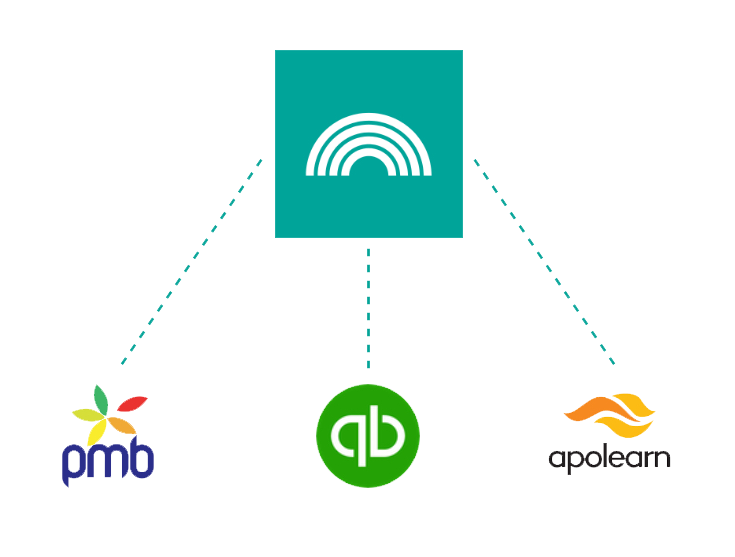 PMB API 
If you use PMB to manage your media library, AEC can now connect to it to automatically create borrowers when they sign up for a media library membership. Please contact us to find out how to set up the connection. (You must have PMB version 7 or higher).
QuickBooks Online API
If you use QuickBooks Online as your accounting software, AEC can now connect to it to automatically transfer sales and payments to AEC. (Only available for Pro and Premium subscriptions).
Improvements in Apolearn
There are many new features in the connection between AEC and Apolearn, such as:
The possibility to see the Apolearn template name in the course list.
Default visibility of the column showing the enrollment status of students in Apolearn.
Students enrolled in Apolearn are automatically deactivated from Apolearn after one year to avoid consuming additional credits if the student logs into Apolearn when they are no longer taking a course.
Substitute teachers are now automatically added to the course in Apolearn.
You can access the student's profile in Apolearn from their AEC tab.
Other improvements
The main menu has been reordered to group modules more intuitively and now allows to distinguish members from students in 2 different modules.
When changing courses or unregistering a student, you can now choose the date on which the student must be removed from the course in order to have a very precise follow-up of his sessions.
Configuration of the e-mail sender address with your own domain

For any further information, please do not hesitate to contact us by e-mail: [email protected] or consult our corresponding help pages in your support area.